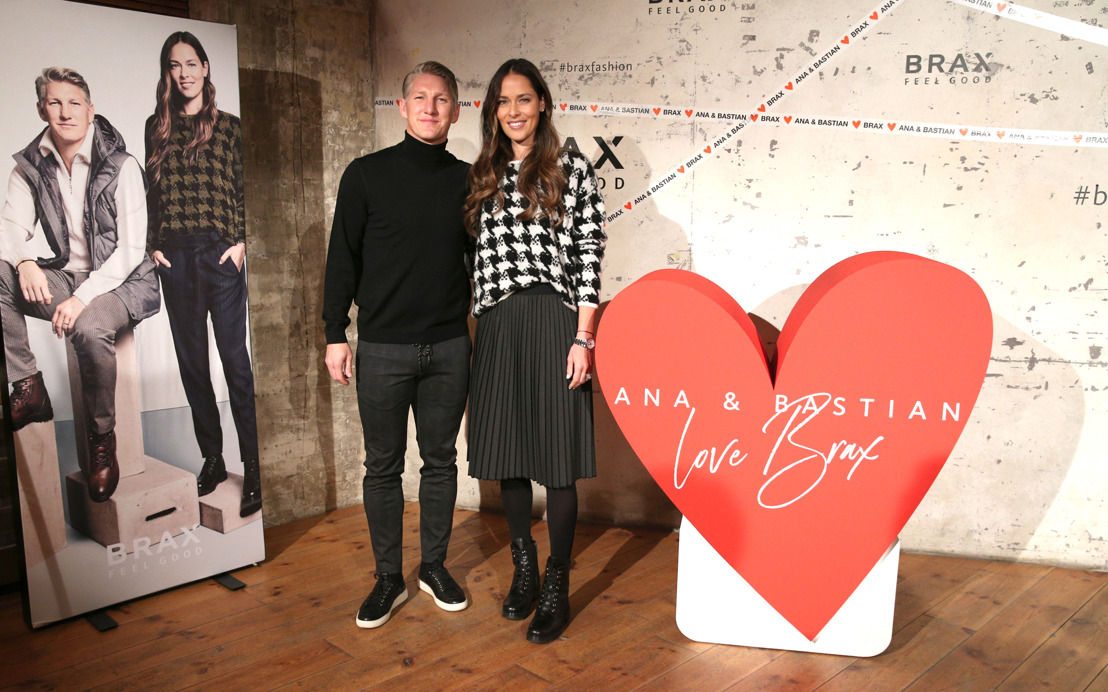 Ana and Bastian Schweinsteiger celebrate with BRAX
CAMPAIGN PREMIERE IN BERLIN
On 14 January 2020, as part of Berlin Fashion Week, the Herford-based fashion label BRAX invited guests to an exclusive house party in an extraordinary location, the "Fabrik 23". The approximately 130 national and international "Friends of the brand" experienced the perfect arc of suspense: A video clip showed new BRAX brand ambassadors Ana Ivanović and Bastian Schweinsteiger being delivered in a wooden box.

With the claim "Ana & Bastian love BRAX", BRAX aims to emotionally address new national and international target groups. "This evening was a very special moment for BRAX, because for the first time in the company's history, two celebrities are representing our company, our brand values and our fashion," said Marc Freyberg, Director Marketing & E-Commerce/Company Spokesman at BRAX.  
Taking a 360-degree approach, the campaign will be conducted in print, online and on social media, with a focus on the digital sector. Hence the production, which took place in Barcelona in December 2019, focused on moving images that are suitable for all channels and have viral potential. The house party also marked the start of the social media campaign on Facebook and Instagram, with the main campaign starting in March 2020.

Another highlight of the evening was the "Ana & Bastian love BRAX" capsule collection, which will be available in autumn/winter 2020. It comprises 16 collection pieces, which were curated and personally presented by Ana Ivanović and Bastian Schweinsteiger. "The enthusiastic reactions of our business partners confirm that we've found the perfect faces for BRAX with Ana and Bastian. They will help us continue to develop brand perception in a positive way," says Marc Freyberg.
Dorothée Marcus PR Manager
You can find more information about the company and the BRAX brand world at www.brax.com  

BRAX was established in 1888 in Berlin. Today, the headquarters of the premium casual label BRAX is located in Herford in East Westphalia. The fashion label has been specialising in trousers for men and women since 1971. Based on many years of success in its core area, trousers, BRAX is now broadening its strengths to knitwear, shirts, blouses and outdoor clothing – BRAX is turning into a vertical clothing brand. Across the world, BRAX presents its collection in all important specialist retailer partners at more than 1,800 shop-in-shops and 100 free-standing stores in Germany, Europe and Asia. More than 1,300 employees support the brand's values: Stylish, smart and passionate.